One of the most memorable scenes in Mary Harron's 2000 adaptation of American Psycho is the business card scene. It involves Patrick Bateman and his peers comparing the shape, lettering size, and texture of their business cards. Of course, this would not work if the movie was set in the 2020s.
As brands, companies, and people have become more environmentally conscious, they've decided to ditch paper-based business cards. Nevertheless, business cards are still as important as they were in the 80s, 90s, and early 2000s.
That said, the medium they are etched on has changed. We've found better and more efficient ways to exchange and store business contact information. For instance, the emergence of business card scanners has shown that you don't have to abandon physical business cards completely. A simple application can convert physical business cards into digital ones.
But what are digital business cards, how can they benefit your company, and how to create your own virtual card? The following guide will answer these questions and more.
What Is a Digital Business Card?
Digital or virtual business cards work just like traditional ones. They contain all your important professional/business information but in a modern format. Fully digital business cards are stored in a Virtual Card Format (.vcf/.vcard) files.
Digital business cards aren't a new technology; VCFs have been around since the mid-90s. You could share them from device to device through Bluetooth or email. Additionally, it was possible to export and import contacts into applications such as Microsoft Outlook. Today, you can share contact details through instant messaging and social media applications such as WhatsApp and Facebook Messenger.
As more businesses and consumers embrace digitalization, we've begun to see a change in how digital business cards are carried, exchanged, and used. Now business cards can be transferred from any Near Field Communication (NFC) capable device – be it smart TVs, computers, phones, or smartwatches.
What Are the Advantages of Digital Business Cards
Because digital business cards aren't constrained by a rectangular piece of cardboard, they afford you more creative freedom. You can add as much (pertinent) information as you want. Additionally, you don't have to commit yourself to a singular design. You can change the appearance and layout of your business cards anytime you want.
As previously mentioned, it's better for the environment and can save you money on printing costs. Digital business cards are also incredibly convenient. For instance, a simple QR code can link potential connections to all of your marketing materials, contact details, social media sites, etc.
You can also use digital business cards to track lead and client engagement. This was not possible with old traditional business cards. A potential lead could throw your business card away, and you would never know. Now, you'll know if a lead never clicks on any of the links on the business card.    
Finally, adaptability is an attribute that all virtual cards share – they are a far more flexible option than traditional business cards. As you'll see further down this guide, you don't need to stick to abstract virtual cards; you can even get physical representations of their digital forms.
This may seem a little superficial to some, but virtual/digital business cards can give people the impression that your brand is trendy and forward-thinking. But what types of digital business cards are available to you and your company?  
Types of Digital Business Cards
The previous sections touched on how digital business cards have evolved over the years to become more accessible to people. Today, there are different types of business cards.
Most people are familiar with e-business cards which work like portable landing pages. They can be attached to email signatures and your social media banner images. These usually mimic the basic structure of traditional business cards and feature your contact information, your company's logo and name, a profile/ID photo, your business address, etc.
Then there are QR code-based virtual cards, which work the same way as physical business cards containing scannable QR codes.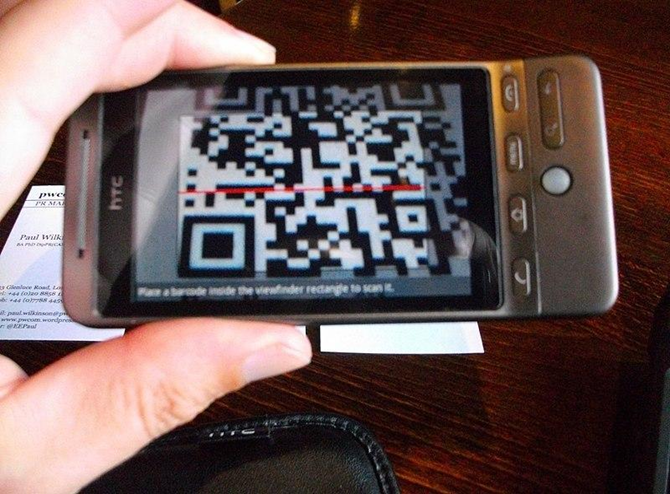 The QR code takes you to a landing page replete with all your company's necessary business information. Alternatively, it can use a multi-URL QR code that reveals (or opens) all the links to your most important online resources.
Programmable NFC tags have also been used to make automation more accessible to more people. These NFC chips implanted in cards can be used to give your digital card a physical form. You can use them to transfer information to NFC-enabled smart devices by simple tapping, and they typically come in plastic, wood, or metal. In most cases, these smart cards are not that different from your business credit cards in terms of shape and weight.  
Creating Your Virtual Business Card
Adobe offers a variety of virtual card templates that you can use to create your digital business card. As previously mentioned, you can use the latest versions of Microsoft Outlook to export contacts as virtual business cards. However, it was not mentioned that you could use Outlook to create and style personalized business cards for yourself and your contacts.
Of course, more modern digital business card creation tools and services have emerged over the last few years. When picking a digital business card vendor or tool, you must ensure that it:
Is easy-to-use
Offers page design features
Comes with analytics and tracking tools
Is affordable
Supports bulk/multiple card creation
Makes sharing your business cards easy
Has API and webhook integration
Is secure
Some of the best digital business card creation tools and services include:
HiHello
Beaconstac
Dibiz
Knowee
DCard
Characteristics of a Good Business Card
It's important that you know what goes into making a good digital business card. Here's a list of visual elements and information you should include in your card.
Your contact information. While this is obvious, you must include all the channels that can be used to contact you. This encompasses your email address, phone number(s), personal and business website URLs, social media links (including LinkedIn), and YouTube channel (if you have one).
Company name. This is another point that may seem obvious. However, many professionals make the mistake of not including the name of their business or printing it in a font smaller than the rest of the information on the card. The business name should be the most prominent text on your digital card, if not even more prominent than your name or any other information.
Consistent branding. Your digital business cards should be similar in branding to your other marketing resources and materials. It should follow the color scheme, font, and typography used in other areas of your business. Additionally, your digital business card should contain your logo, as human beings are pattern-recognizing creatures. Making your branding consistent gives your business a personality. It makes it more memorable and easier to identify and ultimately helps increase what is known as brand recall.
Well-laid out. Your business must maintain an air of professionalism, so don't make your digital business card too visually busy. While expressing your creativity and giving it a personality is important, your business card should not be flashy with color. You also need to ensure that all your visual elements (especially the text) are well-spaced and organized.
Final Words
Different industries have different digital business card requirements. For instance, a medical doctor's card may not have the same layout or type of information as a graphic designer's business card. Nonetheless, the core beauty of virtual business cards is their mutability. You can afford to test which business card design is most effective for your brand through trial and error. Again, this is just one of the many benefits of swapping your old physical cards for virtual ones. It's a budding technological trend that you should consider adopting early.  
Source link