You must have heard of the phrase 'A picture is worth a thousand words', and we could not agree more. The famous saying stays true even in the field of marketing.
Email marketing is an efficient tool that budding marketers and brands highly leverage to ace their marketing game. It is a no-brainer that incorporating email marketing into your marketing strategies can help brands promote their products or services more efficiently.
Apart from this, email marketing successfully opens doors for marketers to enjoy various other benefits like lead generation, widening the presence of their brand, and of course, enhancing conversions!
Did you know that the average expected ROI is 40$ for every 1$ you spend on email marketing?
However, including only boring text-based content in your emails can never help you achieve your marketing objectives. You need to lure the attention of your potential customers by adding an element that is aesthetically pleasing, and this is where the power of visuals comes in!
Why Incorporate Visual Content In Your Emails?
To create an effective email marketing strategy, it is crucial to ensure that it is well-planned and executed. Hence, apart from a result-driven and excellent copy, it is important to add visuals to increase the effectiveness of your campaign.
Visuals hold tremendous potential to catch the attention of the customer due to their engaging presence. Moreover, when used appropriately, visuals can help you convey information quickly and push email recipients to take an action instantly.
Lastly, the highlight is that there are a lot many ways in which you can easily include visuals in your email marketing. Confused about how to begin? Fret not as we have mentioned a few tips and tricks that will help you stay ahead of others.
Without any further ado, let's begin right away!
5 Important Visual Email Marketing Tips & Tricks
Explain complex information with ease using infographics
Replacing typical content with infographics including charts, graphs, and images is a smart move to garner the attention of the recipients and further engage them to gain more insights on the topic.
If you are looking for ways and means to deliver numerically based data in an engaging and detailed format, then including infographics is an excellent move to do the needful as they are perfect for spreading intricate information more appropriately.
Have a look at how the famous writing app Grammarly presented infographics in a rather creative way.

Garner 10x more attention using moving visuals
87% of online marketers use video as a tool for marketing
Ever since the inception of videos in emails, it has picked up the pace and grown to be one of the most popular forms of visual content. Apart from conveying information and grabbing attention, videos work perfectly for narrating the story of the brand as well.
Moving visuals like videos are super efficient to convert your email recipients into regular customers as they get better and more detailed knowledge about your product or service.
Just like the beverage brand Jot has explained to its users how to brew the perfect cup of coffee, you too can engage your users by adding how-to tutorials or different ways to use your product or service to generate more leads.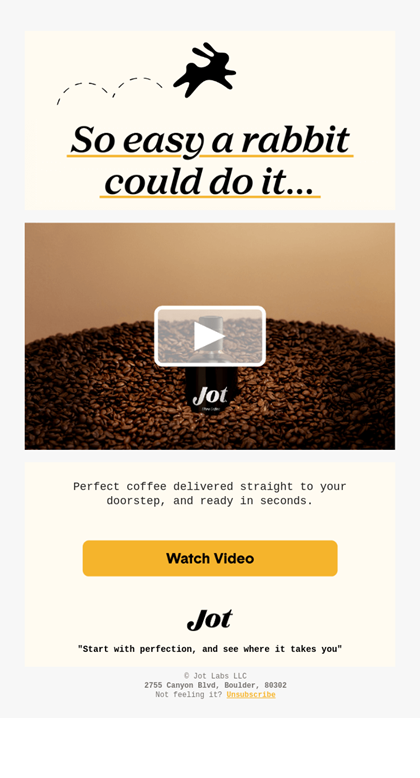 Win prospect's trust and confidence by including visual UGC
Just like any other human, your customer is also a visual being. They believe what they see!
Most importantly, Customers tend to trust other customers more than the brand.
Over the past few years, user-generated content has blossomed into one of the most powerful forms of content since it comes directly from the customers. The best part about UGC is that it is raw and unscripted, which makes it authentic and trustworthy.
Nowadays, customers vouch for their favorite brands by clicking a picture of their preferred products and posting it on various platforms including visually dominated platforms like Instagram, Pinterest, etc.
Further integrating these visuals in your emails is a complete win for your brand as the brand validation is coming directly from your customers. Potential customers look for authentic content before purchasing and incorporating UGC can help you seamlessly.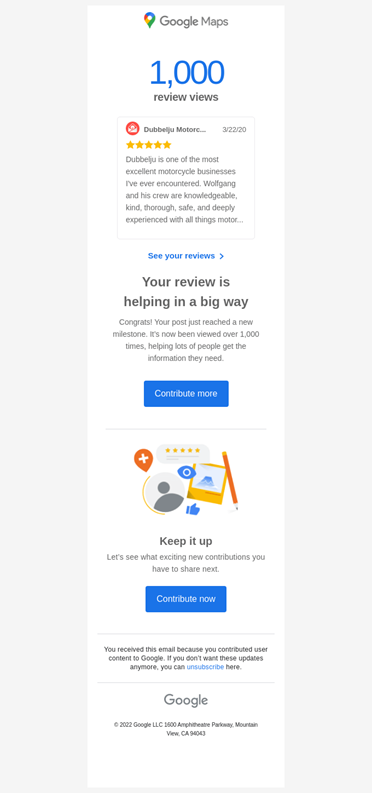 Spice up your emails by adding quirky GIFs
We all love GIFs and we are sure you would agree! They work amazingly well to add a fun factor to your email and make it more appealing. Be it a funny meme, a festive GIF, or simply an informative GIF created by you, it can help you to take your email to a whole new level. GIFs give a quirky touch to your emails and help recipients relate more to your brand.
Quick Tip – Just be sure that the GIF you add adds relevance to your content. It should be able to send the message you are trying to communicate and should make sense.
Take Adobe for example. They ran an exclusive campaign showcasing how their subscribers can animate their innovative illustrations. They even incorporated a 'Try Now button for making an action instantly. Have a look below!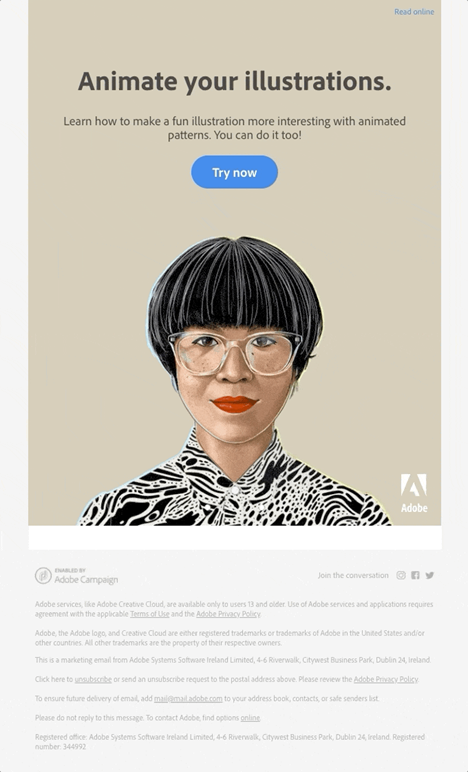 Tap into impulsive buying using product images
Simply sending a promotional email comprising only a catchy headline and text is not sufficient. You need to add more by including the images of the products that you are promoting. Adding product images would compel your subscribers to click on them and explore your product range.
However, ensure that you are not cluttering the mail with too many images, or else it gives an impact like a sales pitch mail. Secondly, you need to make sure to use only high-definition clear images. Including blurry images would disinterest your subscribers immediately and push them to close the mail.
Jamba collaborated with Revive Superfoods to create ready-to-blend yummy smoothies. As a part of their email marketing strategy, they included drool-worthy pictures to entice their potential consumers. For increased impact, they offered an additional 50% off on the first box for a limited time to their customers.

Wrapping It Up!
If you are an email marketer and exploring ways to reap amazing benefits from your email campaigns, you must go for visuals in your next campaign.
Visuals can undeniably elevate email engagement and effectively communicate with your potential customers. We hope we've shared enough inspiration for you to make your email campaigns richer with these rich media.
Source link