Generating qualified leads means attracting more buyers to your small business which translates to more sales and business survival.
In fact, without a solid lead generation strategy in place growing your business can be a tough task.
But generating qualified leads for your small business is easier said than done.
In fact, attracting quality leads is a top challenge for 41% of content marketers: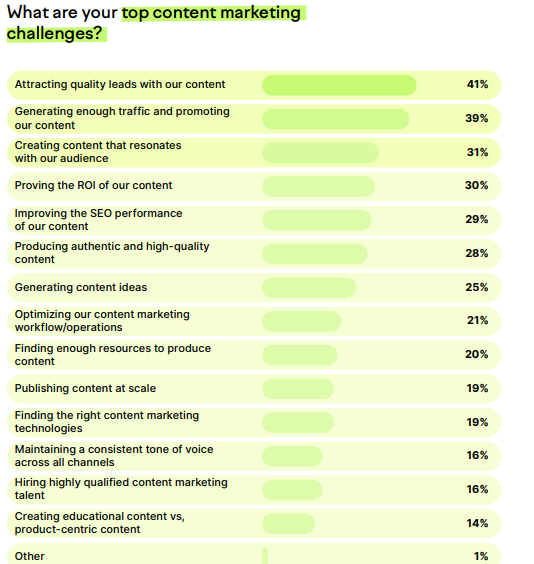 We're here to help you.
In this blog post, you're going to discover 5 effective lead-generation strategies to help your small business attract customers who are actually interested in your products and services.
Let's get started.
5 Practical Ways of Generating Qualified Leads for Your Small Business
1. Determine Your Target Customers
The first step in generating qualified leads for your small business or startup is determining your target customer.
Note that even though there are over 2.1 billion digital buyers out there, not all are willing to become your potential customers.
So who is your target audience?
A target audience represents a group of people characterized by behavior and specific demographics who you want to reach with your marketing efforts.
For example, if you are targeting LinkedIn for the lead generation then you need to follow the their guidelines to get maximum results from the your campiaagn.
Knowing who they are would be easier to create valuable content that educates them about what you're offering.
Without knowing your target audience, you can waste a lot of money, time, and resources trying to market your products to people who aren't interested in them.
Here are tips to help you identify your target customers:
Audit your social followers.
Spy on your competitor's customers.
Collect demographic data on your target audience.
Send out customer surveys.
Use online customer feedback to look for trends.
Use Google Analytics.
Analyze your customer base and conduct client interviews.
2. Ask for Referrals From Your Existing Customers  
Referral marketing is also a powerful tool for generating qualified leads for your small business.
Why?
40% of consumers trust referrals.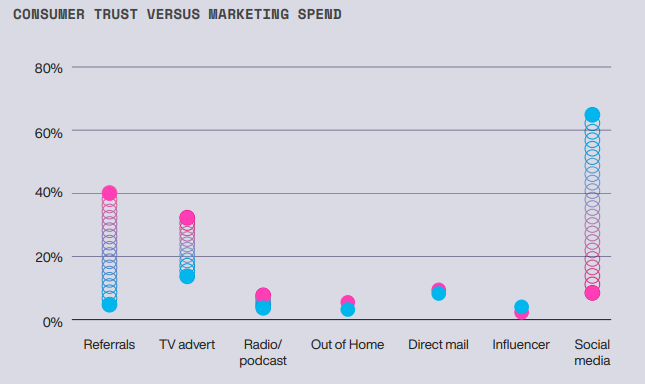 Besides, 88% of them trust recommendations from people they know.
The best part?
Referral marketing is a cost-effective and sustainable marketing strategy. All you need is to ask your happy customers to recommend your products and services to their friends and family in exchange for an incentive – which could be a discount, early access to your exclusive content, a free trial, etc.
Make sure you choose powerful lead generation software so that you can keep track of your referrals and reward your referring customers efficiently.
Here are tips to get quality leads through referrals:
Ensure your current customers are satisfied with your products.
Show your customers that you appreciate them by thanking them for their purchases and offering a loyalty program for them to join.
Create a referral program.
Make it easy for your existing customers to refer others with simple referral links and codes.
Give your customers options to share your referral program across different channels like social media, email, messenger, etc.
Choose the right incentive for the referrer and referred leads.
Promote your program effectively.
Send emails to your happy customers asking them to refer their friends and family to your business.
Here is an example of an email you can send to your current customers asking for a referral: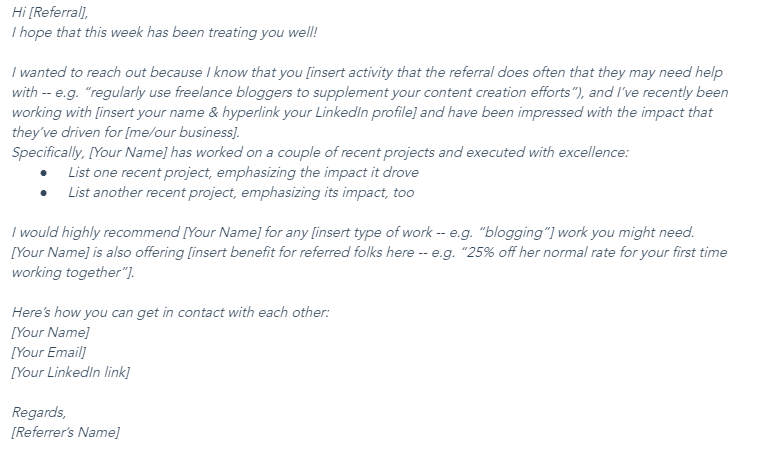 It's also a good idea to send a follow-up email after no response.
3. Create an Effective SEO Strategy
According to HubSpot's 2022 State of Marketing Trends report, 61% of B2B marketers say that SEO and organic traffic generate more leads than any other marketing channel.
What does this mean?
Search engine optimization is still the most effective channel for generating high-quality leads for your small business.
SEO is beneficial for your small business in many ways:
It gives your small business more visibility online which helps to drive organic traffic, more leads, and ultimately more customers and sales.
SEO helps you stand out from your competitors.
When done right, SEO can generate a consistent stream of qualified leads without your intervention.
The best thing is that it's doable and you don't need to invest a lot in it.
Here is how to implement a solid SEO strategy:
Build and optimize your website
Conduct an SEO competitor analysis.
Create information blog posts and articles that satisfy user intent.
Use creative infographics to your content for better results.
Optimize your social media platforms for lead generation.
Make your website mobile-friendly.
Measure the performance of your SEO strategy and adapt it.
4. Host Events
Events are also a powerful lead generation tool for marketers. 67% of B2B content marketers say that virtual events have helped them produce great results in the last 12 months: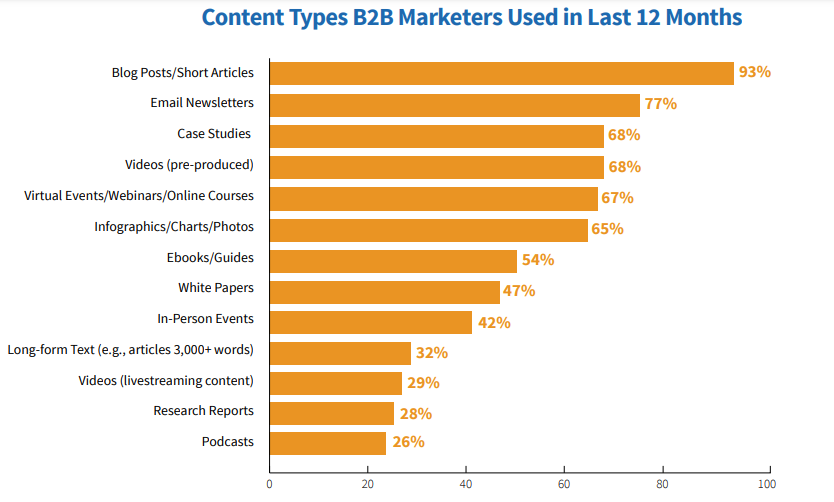 What does this mean?
As a business owner, investing in a multichannel marketing strategy that encompasses hosting and participating in events can help you attract high-converting leads.
By hosting and participating in industry events, you can demonstrate your expertise which could help you attract potential customers and business partners.
You can host a webinar, podcast, virtual event, or live Q&A to establish yourself as an authority on a certain topic.
Besides, you can participate in local events and conferences to meet and engage with your audience.
5. Be Active on Social Media
In 2022, 59% of the world's population use social media: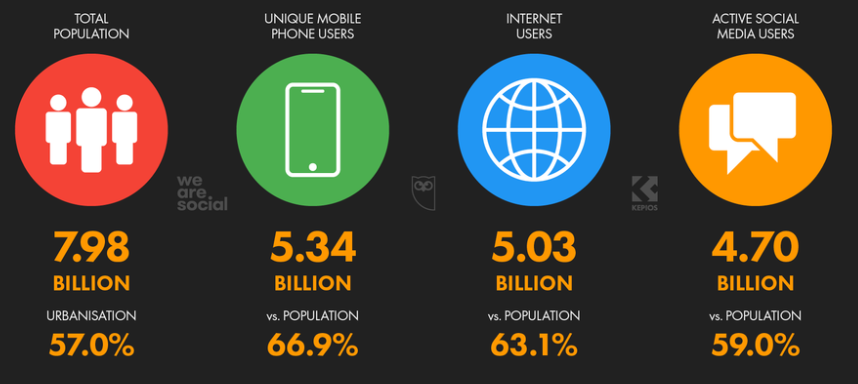 You're missing out on a great potential to generate leads for your small business if you're not actively using social media for lead generation.
A social media marketing industry report by Social Media Examiner shows that 66% of marketers generate leads using social media marketing: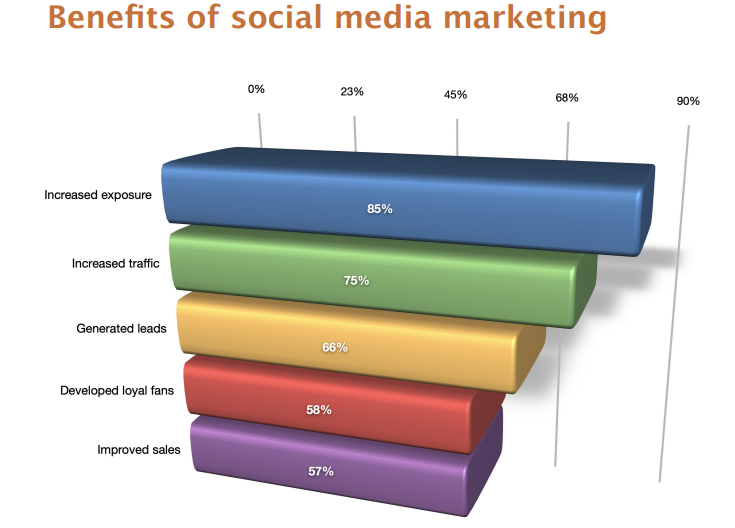 Be active on social media platforms your audiences spend most of their time on such as Facebook, LinkedIn, Instagram, Twitter, etc.
Create useful content regularly, engage with your audience, and even consider utilizing brand ambassadors to capture their attention, and convert them into leads
Final Thoughts
Lead generation is essential for business growth and survival.
There are more than enough ways of generating qualified leads for your small business out there. Implement the lead generation strategies outlined above while monitoring your analytics to see which one brings great results and adapt accordingly.
Source link