Whether you have use-it-or-lose-it funds left over from the last quarter or are putting together a marketing budget for the first time, it's valuable to know which strategies will offer the highest ROI.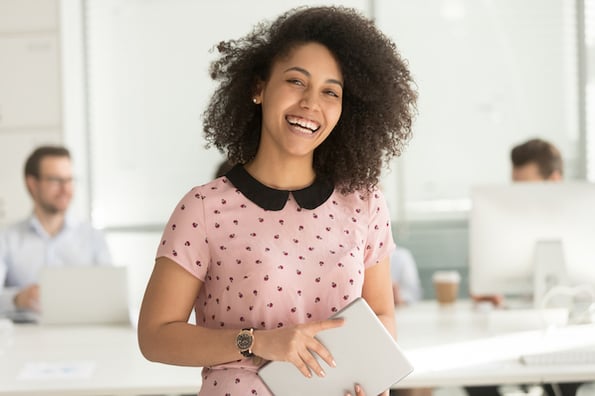 These 24 ideas cover content, advertising, social media, SEO, and lots more.
How to Spend Your Marketing Budget
Test new versions of calls-to-action that are performing poorly.
Invest in user experience insight tools to monitor user behavior.
Revise landing page copy.
Find SEO keyword opportunities on your website.
Do a social media engagement analysis.
Conduct a usability test.
Try ad retargeting to boost performance.
Experiment with social media advertising.
Consider influencer marketing.
Invest in employee knowledge.
Celebrate your success in the past quarter.
Perform customer research.
Design an infographic.
Invest in short-form video.
Optimize your outdated blog posts for conversion.
Perform a sales analysis.
Invest in a better CRM integration.
Conduct an SEO audit on your website.
Plan and script a webinar for the next quarter.
Localize your website for an international audience.
Compile an ebook of relevant information.
Contact industry thought leaders for an interview.
Invest in search ads.
Outsource content creation.
1. Test new versions of calls-to-action that are performing poorly.
Estimated cost: $50 per call-to-action
This test helps you identify the best ways to move prospects further along in their buying journey. To implement CTA testing, sort CTAs by click rate and conversion rate in your analytics software.
Next, redesign the ones with the lowest performance and test them. One way to do this is by performing an A/B test, which will show you which design your audience prefers.
Friendbuy improved call-to-action (CTA) clickthrough rate by 211% with A/B testing, for example.
Image Source
A simple design change like choosing a different photo, or tweaking the wording to connect with leads can convert more visitors.
2. Invest in user experience insight tools to monitor user behavior.
Estimated cost: $150
User experience insight tools help you see how your audience interacts with your website. You'll learn if they're scrolling deep enough to find your beautifully designed CTA. You may even learn that your CTA button isn't working — a good explanation for low conversion rates!
Here's an example: Charli, a web designer, discovered that one of her product pages only got a 0.9% conversion rate from 1,000 views.
When she monitored her page using Hotjar, she found that when visitors clicked the "Buy Now" button, they were taken to yet another "Buy Now" button, causing buyer friction.
Install heat map tracking software, like Hotjar or Crazy Egg, on your landing pages to uncover blockers and fix those.
For more marketing strategies, check out this episode of Marketing Against the Grain.
3. Revise landing page copy.
Estimated cost: $300 per page
Do you have landing pages with conversion rates of less than 15%? Rework the language and/or design so it's tuned into your target persona's needs.
You can use social media or industry-specific communities for research to understand your users' pain points. Forums like Reddit can help too.
Make a post, asking your community how they feel about a topic. Or use a site:domain search to narrow down existing results in public communities.
No matter what changes you make, it's always a good idea to do A/B testing before you make them permanent.
4. Find SEO keyword opportunities on your website.
Estimated cost: $250
SEO keywords help you leverage search engines as a distribution channel for your content. Consider that Google processes approximately 5.6 billion searches per day — and that's an important distribution channel for any business.
One of the ways to discover keyword opportunities you can pull traffic for is to look in the "results" section of your Search Console property. Scroll through the keywords to find keywords you're ranking for without a dedicated page.
On one of my hobby sites, for example, I'm ranking for "support bands for apron belly" and "best pants for apron belly" — and I don't have blog posts for either.
I could create blog posts on those keywords — or landing pages if they were landing page keywords — and start ranking right away.
Pro tip: Use HubSpot's SEO Marketing Tools to monitor your SEO performance on auto. That way, you never miss an opportunity to optimize.
5. Do a social media engagement analysis.
Estimated cost: $250
There's no point throwing money into marketing channels that don't work when you can double down on those that do.
Audit your social media accounts and messages to reveal which platforms and messaging received the most meaningful engagement.
For example, you may find that TikTok generated more conversions for your business than Twitter. Once you have that information, you can prioritize marketing on TikTok while you figure out Twitter.
6. Conduct a usability test.
Estimated cost: $350
A usability test gives real feedback from potential customers. Similar to the results you get from a Net Promoter Score, you'll figure out what customers like and don't like about your web pages.
You'll need a tool like Hotjar to run a usability test. Then you'll need to:
Recruit participants from your target population. These could be your clients or website users who opt-in to participate in your test.
Assign representative tasks to participants.
Observe how the participants carry out the task.
From there, you can figure out how to revise the content on your website to be more user-friendly. For instance, if you find that your product pages aren't easy to navigate, you can mark this as a task to work on for the next year.
7. Try ad retargeting to boost performance.
Estimated cost: $500
Retargeting ads give you another chance to show up in front of a previously interested lead with a new, personalized offer.
For example, I was on the Firstbase website the other day. Since then, I have gotten personalized ads that made me click to learn something new about them on social media.
Ad retargeting can give your acquisition numbers a boost. Look for ad retargeting options on social networks like Facebook, so you can build and revise ads within the channel.
8. Experiment with social media advertising.
Estimated cost: $500
Social media offers the ability to target very specific audiences and craft engaging messaging based on the pages they visit most with social media advertising.
You may want to try advertising if you're already successful with different social media campaigns. It is possible to target your audience and promote a post to see if it gets more traffic. You can also test affordable ad retargeting choices like LinkedIn Sponsored updates.
9. Consider influencer marketing.
Estimated cost: $100 – $10,000
You may not have thousands of dollars in your budget. However, experimenting with influencer marketing does not necessarily come with a hefty price tag. If you have some wiggle room in your budget, you can partner with nano-influencers or micro-influencers.
Shopify estimates that nano-influencers, with 1,000 to 10,000 followers, charge up to $100 per post. Micro-influencers with 10,000-50,000 followers charge between $100 and $500 per post. oUser Report Data Here
If you don't have an influencer strategy, it's time to start setting the foundation. HubSpot research found that influencer marketing will continue to grow in 2023, reaching its highest ROI thus far.
Of marketers using influencer marketing, 89% will increase or maintain their investment next year.
10. Invest in employee knowledge.
Estimated cost: $500
Because marketing is an ever-changing industry, investing in learning opportunities makes your team well-equipped to excel in their day-to-day tasks. Training can come in the form of ebooks, blog posts, or webinars.
Additionally, scope out courses online that will give team members a deeper understanding of the industry.
For example, HubSpot Academy offers courses about content marketing, social media marketing, and sales, in digestible, interactive lessons. Courses update as needed, so you don't have to worry about getting a certification for an outdated skill set.
Here's a cross-section of just some of the courses in the academy.
Image Source
11. Celebrate your success in the past quarter.
Estimated cost: $500
Remember to allocate some funds to celebrate your colleagues and their wins for the quarter. This doesn't have to be a huge blowout party, but it could be something small (like sending colleagues a care package) that will remind your team that you appreciate their hard work.
Come up with superlatives and present them in a year-end meeting. Awards like "Best Movie Buff" or "Funniest Marketer" build up morale.
12. Perform customer research.
Estimated cost: $500
You may have done previous customer research at the start of the quarter, but allocate some funds on an ongoing basis to understand your customers' behavior.
Luke Lee is the CEO of PalaLeather, a fashion design brand. Lee says, "We always make sure to allocate funds for market research and consumer analysis. It helps us understand our target audience and what they are looking for in terms of products or services."
How are you monitoring the web behavior of your customers? Are you investing in social listening tools? And have you revised your personas to reflect the change in customers?
Invest in tools that will help you accurately perform customer research so you can develop new ideas and strategies for future campaigns.
13. Design an infographic.
Estimated cost: $150
Run an analysis, such as a thorough analysis of customer demographics on Twitter, and visually represent your findings in an infographic. This infographic can provide a bird's-eye insight into specific sections of your customer base.
Additionally, infographics can serve as great material for a blog post.
Check out this infographic from NPR. Not only does it utilize brand colors, but the infographic also shows listener data with unique visual representations.
Image Source
If you were to write a blog post about social media demographics in the marketing industry, for example, you could use the Twitter infographic to illustrate your findings. You can use a tool like Canva to design your infographic (plus, it's a tool that integrates with HubSpot).
14. Invest in short-form video.
Estimated cost: $100
Making your first short-form video only requires access to a smartphone. However, if your team has extra budget, consider investing in the tools needed to level up your production. That can include a clip-on lav mic or a tripod for your phone.
HubSpot research found that the use of video will grow significantly in 2023. We found that 24% of brands plan to invest more in video than any other media format.
15. Optimize your outdated blog posts for conversion.
Estimated cost: $100
Because the life of a blog post can span several months, and because you've published new content offers, you may need to revisit old posts and see if there's a more relevant call-to-action to improve conversion on your blog.
SEO tools help identify posts that are falling in traffic and can be updated with new information. Keep an archive of previous blog posts to assist with keeping track of blog performance.
16. Perform a sales analysis.
Estimated cost: $1,000
Finding qualified contacts in your CRM that your company wasn't able to connect with could close sales that didn't happen last quarter.
With a sales analysis, you can identify those contacts so you know exactly whom to target within the next few months.
Next, come up with ideas to reach out to those customers and connect with them. There are a couple of different ways to do this. You can:
Send a personalized email.
Create a specialized offer just for closing sales.
Look into performing an account-based marketing campaign.
17. Invest in a better CRM integration.
Estimated cost: $300
Does your website automatically send leads into your CRM? Can your sales and marketing teams share feedback on leads? If not, now might be the time to make adjustments to your CRM integration to make it work better for your company.
Look into CRMs that automatically integrate with the programs you use daily. There's a reason why HubSpot is the number one choice for many; we integrate with everything!
This will streamline all the work you need to get done. Collaboration between teams will improve as well.
18. Conduct an SEO audit on your website.
Estimated cost: $500
SEO audits clean up your website, improve the user experience, and boost the chance of webpages being found on search engines. When you improve the SEO language on specific pages, you're making them easier to be crawled by Google and recommended to searchers.
Reevaluate your website for SEO opportunities every three months. Have your core webpages reviewed to optimize on-page factors, and review web copy for missing keywords.
19. Plan and script a webinar for the next quarter.
Estimated cost: $200
Of marketers, 16% are planning to leverage webinars for the first time in 2023. That's because webinars are a great way to generate new leads. Focus on topics that solve your target persona's pain points and produce a high-quality webinar. It can be live and saved for later or prerecorded.
Persona pain points you can focus on are topics you know your audience has questions about, such as sales analytics. For a webinar like this, reach out to a top salesperson at your company and ask them to host. Alternatively, interview them about topics they see as trending.
Once you shoot and edit the webinar, you can promote it via email subscribers and on social media.
20. Localize your website for an international audience.
Estimated cost: $2,000
If you have an international audience or are planning to expand internationally, remember to update your website. A localized website will make the content on it relatable to local audiences. Go beyond translating the language and think of what customers in other countries will really love.
For instance, research some topical elements and offers that are popular in different regions — really familiarize yourself with culturally relevant graphics and website formats that are interesting to global audiences.
21. Compile an ebook of relevant information.
Estimated cost: $500
An ebook is another content marketing idea for generating leads. Studies or experiments you've conducted over the course of the quarter that provided interesting results could be very valuable for your customers.
Look at ebooks that are impressive and take notes of what's inspiring about them.
Decide on a topic for your ebook and work on formatting it as an offer to subscribers and for social sharing. Additionally, create an offer you can add on a couple of relevant topics to expand the reach of your ebook.
22. Contact industry thought leaders for an interview.
Estimated cost: $500
HubSpot likes to host "HubTalks," in which we bring different thought leaders in for an interview. This could be a book author, educator, medical professional, or motivational speaker. These talks are meant to inform or entertain attendees.
Talks like these expand the knowledge of employees and give them opportunities to explore their interests. Have your team vote on possible interviewees or topics so you're picking the right thought leaders, and ask them to submit questions. This is a great opportunity for team bonding and learning.
23. Invest in search ads.
Estimated cost: $1,000
Search remains one of the most effective channels for advertising. The people searching are already qualified users, as opposed to people on social media who aren't.
Sid Kumar, director of product marketing at Exoprise, says they spend two-thirds of their marketing budget on search ads. "Our annual budget is around $300,000, out of which we spend $200,000 on paid ads (around 66%). $150,000 of that portion goes into Google Ads, while the rest is on Bing," he says.
Search ads can be a cost-effective way to drive new leads, especially if you target keywords that are high intent (ones that indicate a searcher's close to making a purchase).
"We have vetted Google Ads leads for many years and found that they are the most reliable for the business," Kumar adds.
Optimize your website and landing pages for conversions, and make sure you track campaign performance by metrics like conversion rate and lead cost. This will help you to pinpoint areas of the campaign that are performing well, and areas that need attention.
24. Outsource content creation.
Estimated cost: $800 per article
Outsourcing content creation can be a smart move if you're struggling to gain traction with content. It can free up your time to focus on other tasks, frees up internal resources, and can result in improved content quality — especially if you hire expert freelancers.
"We work with content creators to work on our IT blog," says Dario Diament, vice president of marketing at InvGate. "Content is a strategic element for us. In order to scale we need third-party resources to help us with that. That's why we spend 20% of our budget on content right now."
Eric Doty, content lead at Dock, is "going all-in on SEO from almost day one. So we spend the bulk of our marketing budget on freelance writers and tools to manage that process. I spend a third of our budget on freelance content writers that contribute at least 6-8 blog posts per month."
Spending Your Marketing Budget
It's tough to make sure you're spending your budget wisely. When you stop and think about what your team needs, and what your audience needs, however, you can begin to form a pretty good idea of how to plan out those resources.
Once you do a little research, plan your budget accordingly, and get ready to step into a new quarter on a great note.
Editor's Note: This post was originally published in June 2020 and has been updated for comprehensiveness.
Source link